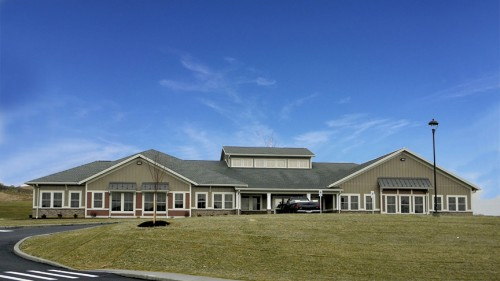 Noelker and Hull Associates, Inc. joined Quincy Village administrators, staff, and residents to celebrate the opening of Parker House Assisted Living, a new care facility at the community's campus in Quincy, PA.
Each of the three 11,270-square-foot buildings houses a 16-unit "small house" design with residential features including private bedrooms, a great room, outdoor garden, country kitchen, dining, laundry, spa, two-car garage, and support spaces. Phase one includes three buildings, with another three planned for phase two.
The small house design is intended to give residents a comfortable home-like and secure feeling to promote independence and allow residents to cook meals, do laundry, or set the dining table if they wish. Each unit will be staffed around the clock for care assistance, where needed.
Presbyterian Senior Living is a not-for-profit organization, providing retirement and senior care services for more than 85 years. Headquartered in Dillsburg, Pennsylvania, we and our affiliates provide comprehensive services and accommodations to more than 6,000 seniors in 30 locations across the mid-Atlantic region of Pennsylvania, Maryland, Ohio and Delaware.