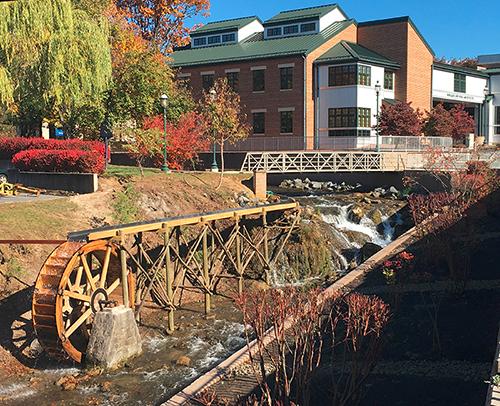 Noelker and Hull Associates recently joined local business and community leaders along the Falling Spring in downtown Chambersburg to celebrate the reinstallation of the stream's iconic water wheel.
The wheel was removed in 2015 and transported to the Franklin County Career and Technology Center to repair the 40 wheel paddles and water chute. Noelker and Hull Associates worked with local businesses and organizations to support the restoration by developing a site plan for the reconstructed wheel.
Originally built in 1983, the wooden structure was a reproduction of the wheel used to operate a saw mill and grain mill owned by Benjamin Chambers, Chambersburg's first settler. Stretching 12 feet in diameter, the cypress wood wheel serves no historic purpose, but offers a picturesque view from Fort Chambers Park along the confluence of Falling Spring and the Conococheague Creek. The 3,000-pound overshot wheel gets its name from the delivery of water over the top of the wheel, which makes it turn. The wheel's rotation was stopped in 2002 after a boy was injured.
The wheel was previously removed and restored in 1997 after falling to disrepair and vandalism. Several local craftsmen and businesses volunteered time and talent for the renovation in a display of pride for downtown Chambersburg and its past.